Reconstruction Restoration Plan
An experienced restoration company will be able to provide you with a remediation plan outlining the steps to take as part of the restoration process. Our first step will be to conduct a thorough inspection of your property to identify any damages that have occurred as well as any potential problems. To know the scope of the expenses and how you wish to proceed with the project, you should receive a reliable estimate of the costs involved in repairing or replacing your home.
Equipment and Training
A restoration job requires equipment that is up-to-date. A proper cleanup is ensured by our technicians using the latest techniques and using the best products available. Personal property inside your home or business should be protected and restored with the utmost care, in addition to the structural parts.
Customer Communication
Throughout the process, it is essential to contact you personally in order to complete the job well. At every stage of the process, we strive to maintain open communication with you as a customer out of respect for you.
Insurance Assistance
Restoration work cannot be completed without a successful insurance claim. Professionals who know how to file a claim on time, according to industry standards, are needed to assist with proper documentation.
Quality of Workmanship
It is essential for a restoration company to be able to deliver services effectively. Response times need to be as fast and efficient as possible. It is essential that craftsmanship is of the highest quality, so individuals can feel confident about their homes or businesses when they return home or to work.
When You Need Reconstruction Restoration Services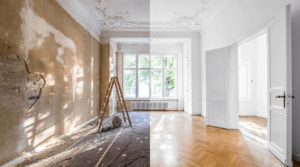 The need for reconstruction restoration services is common in emergency situations. In the event that fire, water, or mold damage cannot be repaired with a simple cleanup or a few limited repairs, reconstruction must be carried out to restore the structure to its original condition. Construction work is already required to maintain a property, so the owner may want to upgrade their property in a number of cases. Professionals should perform the work using high-quality materials with exceptional craftsmanship. In terms of reconstruction restoration services, there are three main types:
Fire Damage Restoration
Unfortunately, fire damage is often catastrophic and requires extensive cleaning and rebuilding to restore a structure to its normal state. In dealing with fire damage, there is a lot of danger involved because smoke and flames can penetrate a structure. Soot, ash, and burn problems need to be assessed thoroughly in order to ensure the reconstruction process runs smoothly.
Over time, the following parts may need to be replaced in a home or business:
An experienced full-service remodeling company will coordinate the remodeling schedule and ensure that your project is handled by highly skilled contractors.
Water Damage Restoration
There is no doubt that water is one of the most destructive elements when it comes to home emergencies. Structures and property inside your home are at risk of being destroyed. Depending on the conditions, water can remain inside a home for so long that the damage it caused cannot be repaired. The cause of this can be a leak that is undetected or a major flood. Aside from posing a risk of mold proliferation, water can also promote bacteria growth. Providing the right conditions, this can happen quickly.
As well as drying and disinfecting the affected areas of the home, technicians are responsible for cleaning personal belongings. As long as water is in contact with drywall, it doesn't take long for it to become destroyed. To prevent mold from growing on the property and to restore its appearance, replacement is always the best option.
Mold Damage Restoration
Those who are exposed to mold are at risk of developing serious and permanent health problems. When black mold infiltrates drywall or other materials, it is often necessary to replace large sections, which can cost an extremely high amount of money. In addition to toxic molds, there are other molds that need to be remedied.
As a result of the construction of newer buildings, moisture is able to be held and airflow is reduced while at the same time efficiency is improved. Due to this, mold is able to reproduce under ideal conditions. In order to prevent future growth, it is often best to rebuild damaged areas if there has been damage and to properly treat the affected areas to prevent them from happening again.
Where Reconstruction Restoration Services Make a Difference
Reconstruction services are important not just for remodeling, but for many other reasons as well. Contractors can provide their customers with several important services during a crisis:
Stabilization of structures

Properties that have been boarded up

Security measures at the site (building fences, storage areas, and restricting barriers)

Debris removal and demolition of hazardous materials
Fire or flooding damage to a property requires a reconstruction team to arrive on site as soon as possible in order to secure the property pending reconstruction.